Market Trends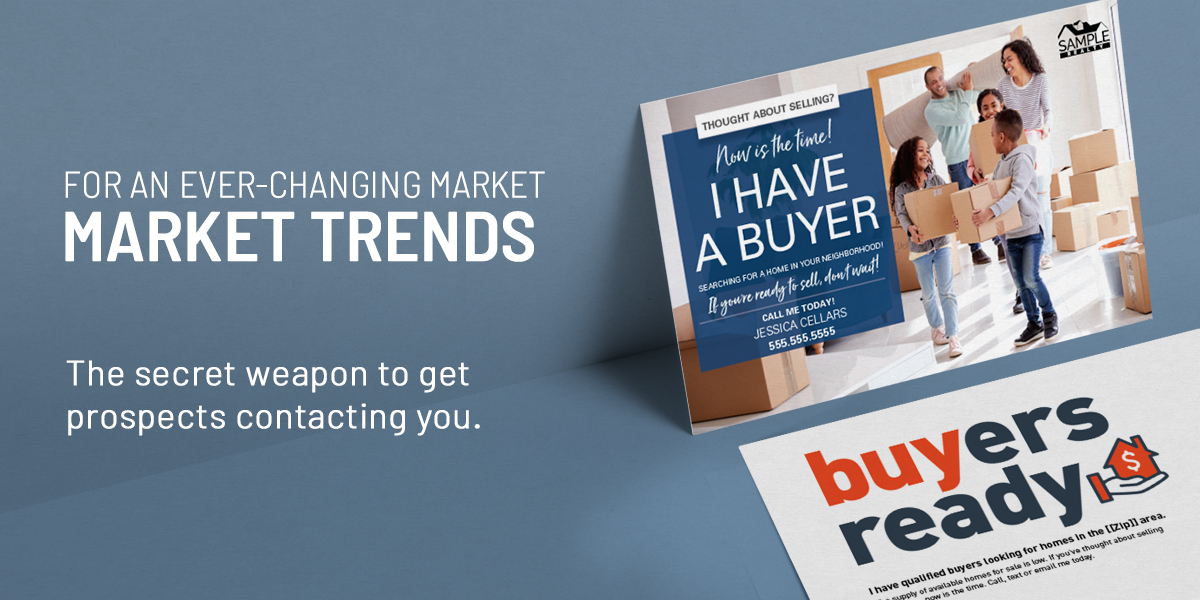 Share your expertise about the latest real estate market trends and urge homeowners to act fast.
Send a Market Trends Postcard to attract homeowner's attention with a clear message that you can sell their home now. When inventory is low, let them know you have prequalified buyers looking for a new home in their neighborhood.
• 3 Postcard Sizes • UV Coating Options Available
---
Select your
Postcard Size
---
Here are five reasons to begin mailing Market Trends Postcards today!
Keep clients informed: Real estate professionals can use market trends postcards to keep their clients informed about the latest market trends, such as changes in inventory levels, interest rates, and home prices. This can help clients make informed decisions when buying or selling a property.
Generate leads: Market trends postcards can also be used as a lead generation tool. By sending out these postcards to prospective clients, real estate professionals can showcase their expertise and position themselves as thought leaders in the industry.
Stay top-of-mind: Regularly sending out market trends postcards can help real estate professionals stay top-of-mind with their clients and prospects. This can increase clients' likelihood of choosing them for their real estate needs.
Establish credibility: By sharing their knowledge of the real estate market and providing valuable insights, real estate professionals can establish themselves as credible sources of information. This can help build trust with clients and prospects, leading to more successful transactions.
Differentiate from competitors: Market trends postcards can also help real estate professionals differentiate themselves from their competitors. By providing valuable information and insights, they can position themselves as experts in the field and stand out from the crowd.