A-Frame Signs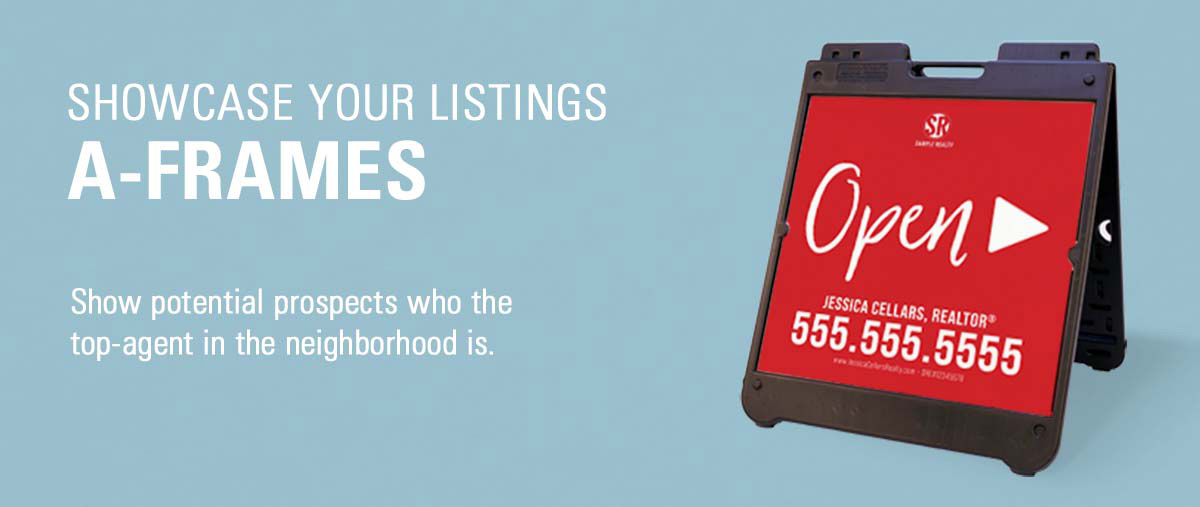 These durable outdoor signs are the perfect way to garner the attention of pedestrians and drivers alike! It's also a great way to market your listings and your brand. Comes with two single-sided panels.Plasticade® SimpoSquare™ 24 Signicade available in black or white.
• Sign Dimensions: 24"x 24" • Print: Two Single-Sided Panels • Material: 1/8" Polystyrene
• Includes Black or White Plasticade® SimpoSquare™ 24 Signicade • Multiple Color Options Available
---
---
Here are 4 tips on using A-Frame Signs at your next open house.
1. Place A Frame Signs in High-Traffic Areas: 
 Place your A-Frame Signs in busy areas around the neighborhood to generate foot traffic. Outside the neighborhood, place A-Frame Signs at intersections and near public transportation. This will attract the attention of potential buyers who may not have known about the open house.

2. Keep The Design Simple: 

Use clear and easy-to-read fonts to make your message and branding stand out. Include only the essential information—the address, open house details, a QR code for the online listing, and your brand and logo.

3. Showcase Your Branding
: 
Make sure to include a high-resolution headshot and logo. A-Frame Signs are the perfect opportunity to market your upcoming listing and increase your farm's brand awareness.
4. Place Signs Strategically
: 
The ideal A-Frame Sign placement guides potential buyers to the open house. This includes nearby street corners in the neighborhood. Make sure to include directional arrows on the Sign Riders to direct potential buyers in the right direction.
Order your open house signs from Corefact today!